Online version of this press release
FOR IMMEDIATE RELEASE:

Acon Digital updates Extract:Dialogue to Version 1.2 with Improved AI Model
Oslo, June 30th, 2022 — Acon Digital has updated their acclaimed dialogue noise suppression plug-in, Extract:Dialogue, to version 1.2. The plug-in separates dialogue from common types of background noise such as wind, rustle, traffic, hum, clicks and pops.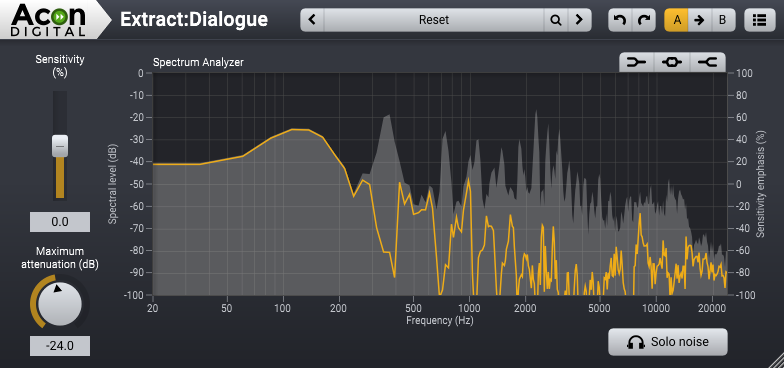 Version 1.2 includes a new and improved neural network model. A large set of high quality audio recordings is crucial for the training of neural networks. Acon Digital has teamed up with the sound effects company Soundly in their pursuit of high quality training data. Soundly is a complete sound effects platform with a user-friendly software package and a huge library of professional quality audio recordings.
"Our partnership with Soundly allows us to gain access to a massive library of consistently labelled audio recordings that we can use as high-quality training material for our neural networks," says Stian Aagedal, CEO of Acon Digital, and he continues: "The quality of the training set is reflected in the robust noise suppression that the latest version of our Extract:Dialogue plug-in offers." There were also improvements in the structure of the neural network that lead to better performance and less perceivable artifacts.
Acon Digital Extract:Dialogue is available for both Windows (PC) and macOS (Macintosh). Both 32 and 64 bit versions are available for Windows and the version for macOS is 64 bit. The plug-in formats VST, VST3, AAX Native / AudioSuite and Audio Units (macOS only) are supported.
Price and Availability
Extract:Dialogue is available in the Acon Digital Store for $99.90 USD. Extract:Dialogue is also included in Acoustica Premium Edition 7.x, the powerful audio editing, mastering and restoration package that is available for $199.90 USD.
User Interface Languages
English and German
Additional Resources
System Requirements
PC Version (Windows)
Windows 7 / 8.x / 10 / 11
Intel Core i5 or AMD multi-core processor (Intel Core i7 or faster recommended)
1366 x 768 display resolution (1920 x 1080 or higher recommended)
1 GB RAM (4 GB or more recommended)
1 GB free HD space
Macintosh Version (macOS)
macOS / OS X 10.9 or later
1 GB RAM (4 GB or more recommended)
1 GB free HD space
About Acon AS
Acon Digital is a Norwegian company that develops cutting edge audio editing software and processing tools. The wide range of products covers audio editing, restoration, mastering and effects processing — all conceived with ultimate audio quality and usability in mind.

Acon AS
Lybekkveien 29C
0770 Oslo
Norway