Online version of this press release
FOR IMMEDIATE RELEASE:

Acon Digital Releases DeVerberate 3 — Reverb Reduction based on Deep Learning
Oslo, September 29th, 2021 — Acon Digital has released DeVerberate 3, a plug-in that attenuates unwanted reverb present in recorded audio. The new version includes an entirely new algorithm based on deep learning for fully automatic reverb reduction of recorded dialogue. By training a neural network on thousands of high-quality voice recordings and a wide variety of acoustical surroundings, the artificial intelligence can automatically distinguish dialogue from reverb. The separation works without user interaction and automatically adapts to changes in the reverb characteristics, thus making DeVerberate 3 extremely easy to use.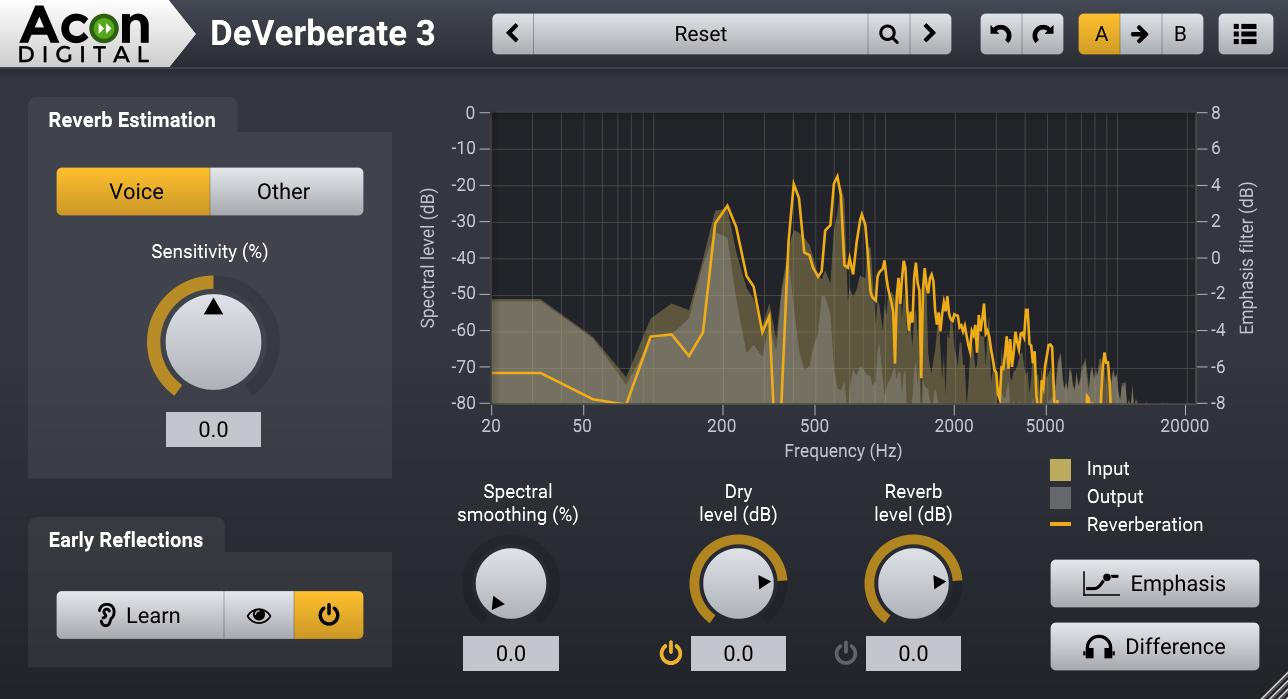 The reverb reduction algorithm from version 2 is included for music and other audio sources. Additionally, DeVerberate 3 offers an Early Reflections Filter that can attenuate the unpleasant resonances that are frequently encountered in small rooms. All the plug-in parameters are fully automatable.
Acon Digital DeVerberate 3 is available for both Windows (PC) and macOS (Macintosh). Intel and Apple Silicon based Macs are supported natively and both 32- and 64-bit versions are available for Windows. The plug-in formats VST, VST3, AAX Native / AudioSuite and Audio Units (macOS only) are supported.
Price and Availability
DeVerberate 3 was released today and is available in the Acon Digital Store and the regular price is $99.90 USD for the full version and $49.90 USD for the upgrade from earlier versions of DeVerberate. The upgrade is free of charge for customers that purchased DeVerberate 2.x after June 25th, 2021, or own the Acoustica Post Production Suite. An introductory discount is offered until October 14th, 2021, with the full version available for only $79.90 USD and the upgrade for only $29.90 USD.
User Interface Languages
English and German
Additional Resources
System Requirements
PC Version (Windows)
Windows 7 / 8.x / 10
Intel Core i3 or AMD multi-core processor (Intel Core i5 or faster recommended)
1366 x 768 display resolution (1920 x 1080 or higher recommended)
1 GB RAM (4 GB or more recommended)
1 GB free HD space
Macintosh Version (OS X)
macOS / OS X 10.9 or later
Runs natively on Intel and Apple Silicon
1 GB RAM (4 GB or more recommended)
1 GB free HD space
About Acon AS
Acon Digital is a Norwegian company that develops cutting edge audio editing software and processing tools. The wide range of products covers audio editing, restoration, mastering and effects processing — all conceived with ultimate audio quality and usability in mind.

Acon AS
Lybekkveien 29C
0770 Oslo
Norway