Online version of this press release
FOR IMMEDIATE RELEASE:

Acon Digital Releases Acoustica 7.3 with Native Support for Apple Silicon
Oslo, April 16th, 2021 – Acon Digital has released version 7.3 of their powerful audio editor Acoustica for Windows and Mac. The Mac version now runs natively on Apple Silicon processors such as Apple M1. Acoustica is available in a Premium Edition and a lower cost Standard Edition. The extensive collection of renowned plug-ins included in the Premium Edition now also run natively on Apple Silicon.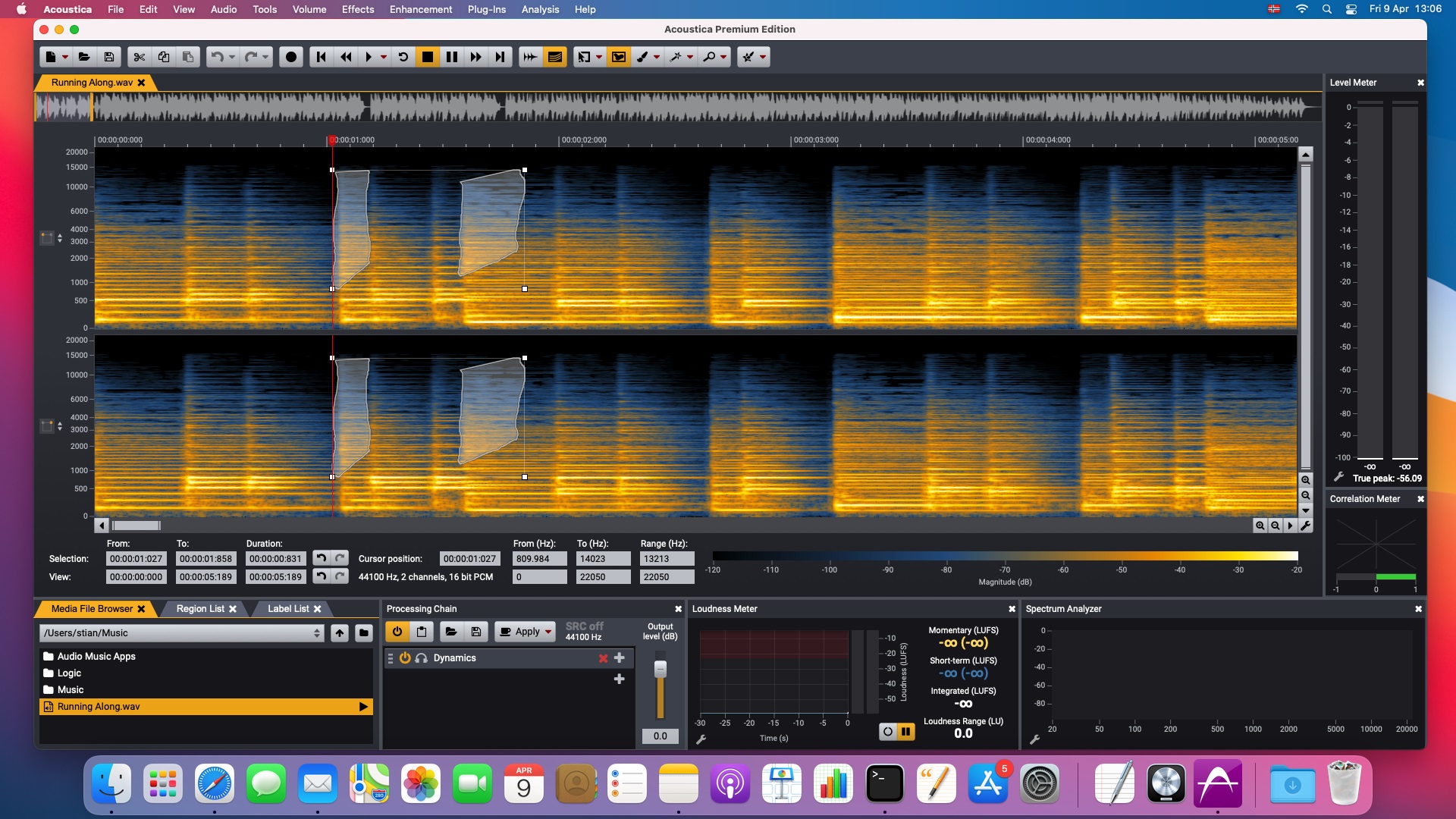 Acoustica Premium Edition 7.3 includes four new plug-ins for dialogue post-production based on deep learning that are also seamlessly integrated into the application. Extract:Dialogue automatically extracts dialogue from a range of common noise sources. More targeted noise reduction is possible with DeWind:Dialogue, DeRustle:Dialogue and DeBuzz:Dialogue. Time-frequency selections in the Premium Edition's powerful spectral editor can now be resized and moved. It is also possible to merge time or frequency range selections with other tool selections by holding down the shift key.
The Remix tool for stem separation is available in both editions and now offers adjustable sensitivity for each stem. Based on deep learning, Remix is able to split a complete mix in up to five stems. A separate download of the model files as in the previous version is no longer necessary and the memory requirements are much lower. A new, high-quality time scale modification algorithm now powers the Time Stretch and Transpose tools. The audio quality was greatly improved, so that larger duration changes are now possible without noticeable artifacts.
The multitrack editor has received a facelift and it is now possible to add fade-ins or fade-outs directly to clips. Other workflow improvements include snapping to other objects, region selection and optional looped playback. Files in the integrated Media File Browser can now be inserted in multitrack sessions, the clip editor or CD projects using drag and drop.
Price and Availability
Acoustica 7.3 is available in a Premium Edition ($199.90 USD) for advanced users and a feature limited Standard Edition ($59.90 USD) for beginners. The upgrade is free for Acoustica 7 customers and owners of Acoustica 5 and 6 are entitled to reduced upgrade prices.
User Interface Languages
English and German
Additional Resources
System Requirements
PC Version (Windows)
Windows 7 / 8.x / 10 — 64 bit
Intel Core i3 or AMD multi-core processor (Intel Core i5 or faster recommended)
1366 x 768 display resolution (1920 x 1080 or higher recommended)
4 GB RAM
10 GB free HD space
Macintosh Version (OS X)
OS X 10.9 or later
4 GB RAM
10 GB free HD space
About Acon AS
Acon Digital is a Norwegian company that develops cutting edge audio editing software and processing tools. The wide range of products covers audio editing, restoration, mastering and effects processing — all conceived with ultimate audio quality and usability in mind.

Acon AS
Lybekkveien 29C
0770 Oslo
Norway